Regular price
Sale price
$16.95
Unit price
per
Sale
Sold out
Franmar's BEAN•e•doo Plastisol Ink Remover eliminates the use of mineral spirits and other volatile solvents while saving time and money. BEAN•e•doo was the first product introduced by Franmar to replace the caustic, toxic, high odor products, and at a fraction of the cost. BEAN•e•doo effectively cleans screens without the odor and is drain safe. Low-VOC and 100% biodegradable, this ink remover reduces the hazards of screen reclamation to workers and the environment.
Low Odor
Non-Caustic and Non-Hazardous
Made with American-Grown Soybeans
View full details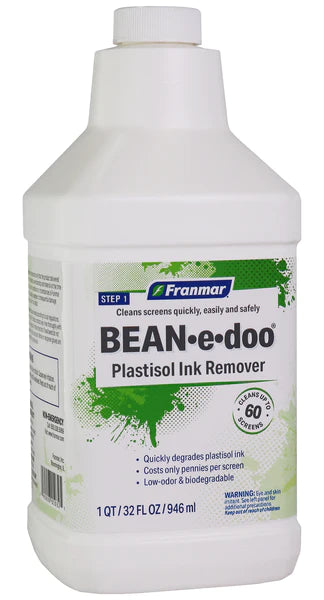 Need Assistance with Franmar Products?

Our team is committed to your success and satisfaction. We are passionate about helping the printing community through knowledge, education, and service. Need additional information on our products, contact us today and we will be happy to assist!