Regular price
Sale price
$0.00
Unit price
per
Sale
Sold out
Increasing screen room production is easier with EXILE's Spyder II computer-to-screen system. The Spyder II creates screen masks with incredible speed and accuracy, imaging screens at over two square feet per minute at 600 dpi. At nearly twice the throughput of the original Spyder, this CTS printer streamlines the prepress workflow providing massive reductions in labor and costs, while saving you valuable time in press setup.
BENEFITS
Bi-directional printing for faster output
Reduces screen room labor
Supports frame sizes up to 46" x 55"
Better density than most film and liquid ink CTS systems.
Dimensions:
Spyder 30 – 32" x 49" x 61" (79 cm x 124 cm x 155 cm) | Weight: 300 lbs (136 kg)
Spyder 52 – 32" x 80" x 61" (79 cm x 203 cm x 155 cm) | Weight: 340 lbs (150 kg)
SPECIFICATIONS
EQUIPMENT SPECIFICATIONS
Model: Spyder II Computer-to-Screen System
Technology: Phase-change inkjet / Solid ink
Resolution: 600 dpi
Halftone Capability: 75 lpi @ 600 dpi
Imaging Speed: Approximately 2.4 sq ft/min (13 sq m/h) @ 600 dpi
Accuracy: .001" from screen to screen
Power Requirements: 120v/220v 50-60 HZ 15 amp
Compressed Air: Required
Network: Ethernet
Operating Temperature: 50°F to 86°F / 10°C to 30°C
Operating Humidity: 35% to 75% non-condensing
Ink Type: Solid block / Water dispersible photo resist mask
RIP SPECIFICATIONS
RIP Type: RTI Harlequin RIP
Platform: PC
Screening: AM and FM (stochastic) screening available
Input File Formats: Postscript III, PDF, EPS, TIFF
RIP Options: Auto Trapping, Color Management / Proofing, Hybrid Screening
View full details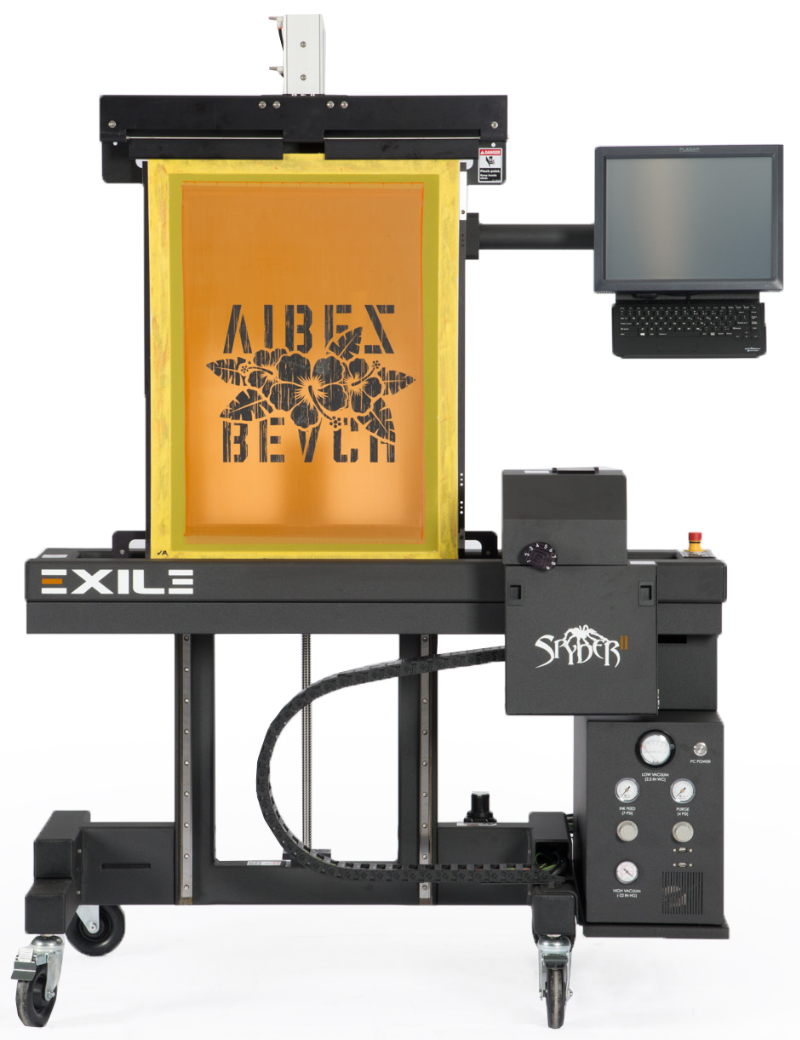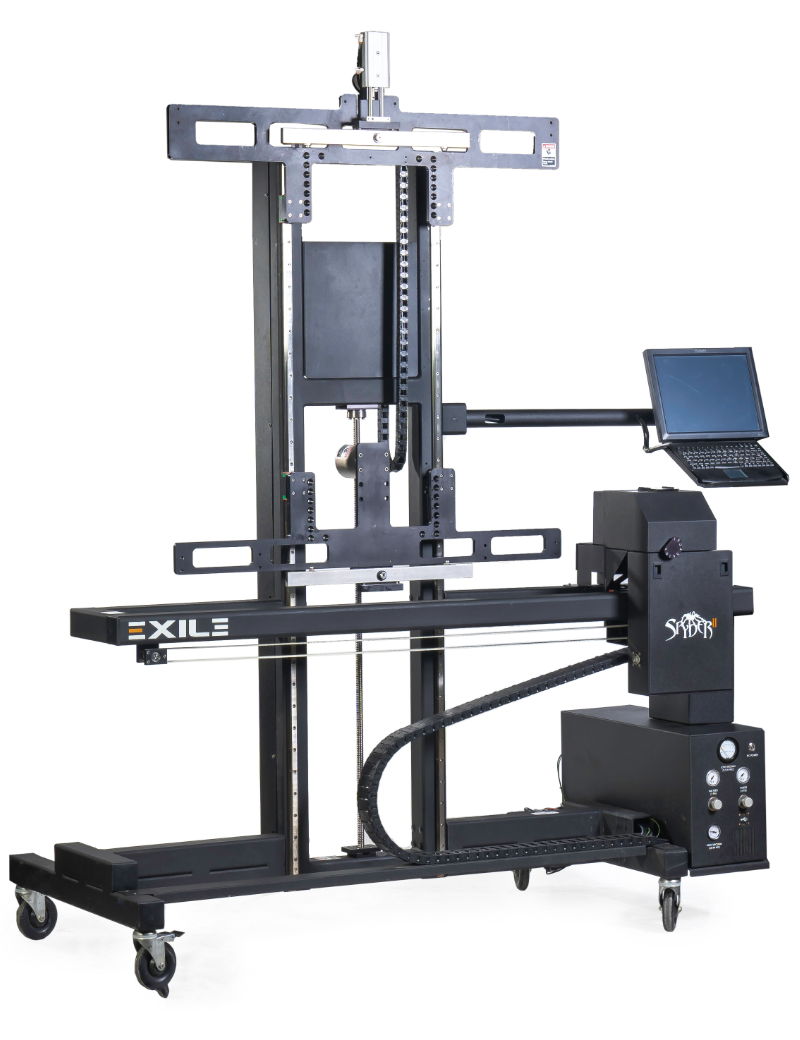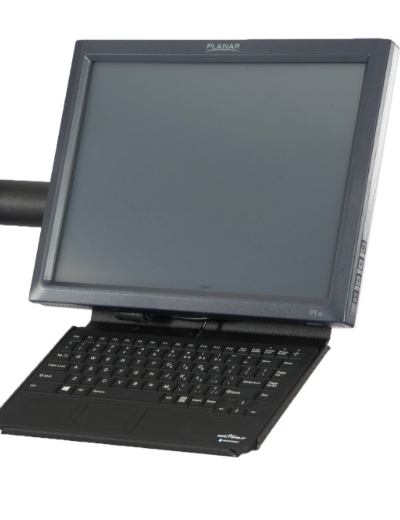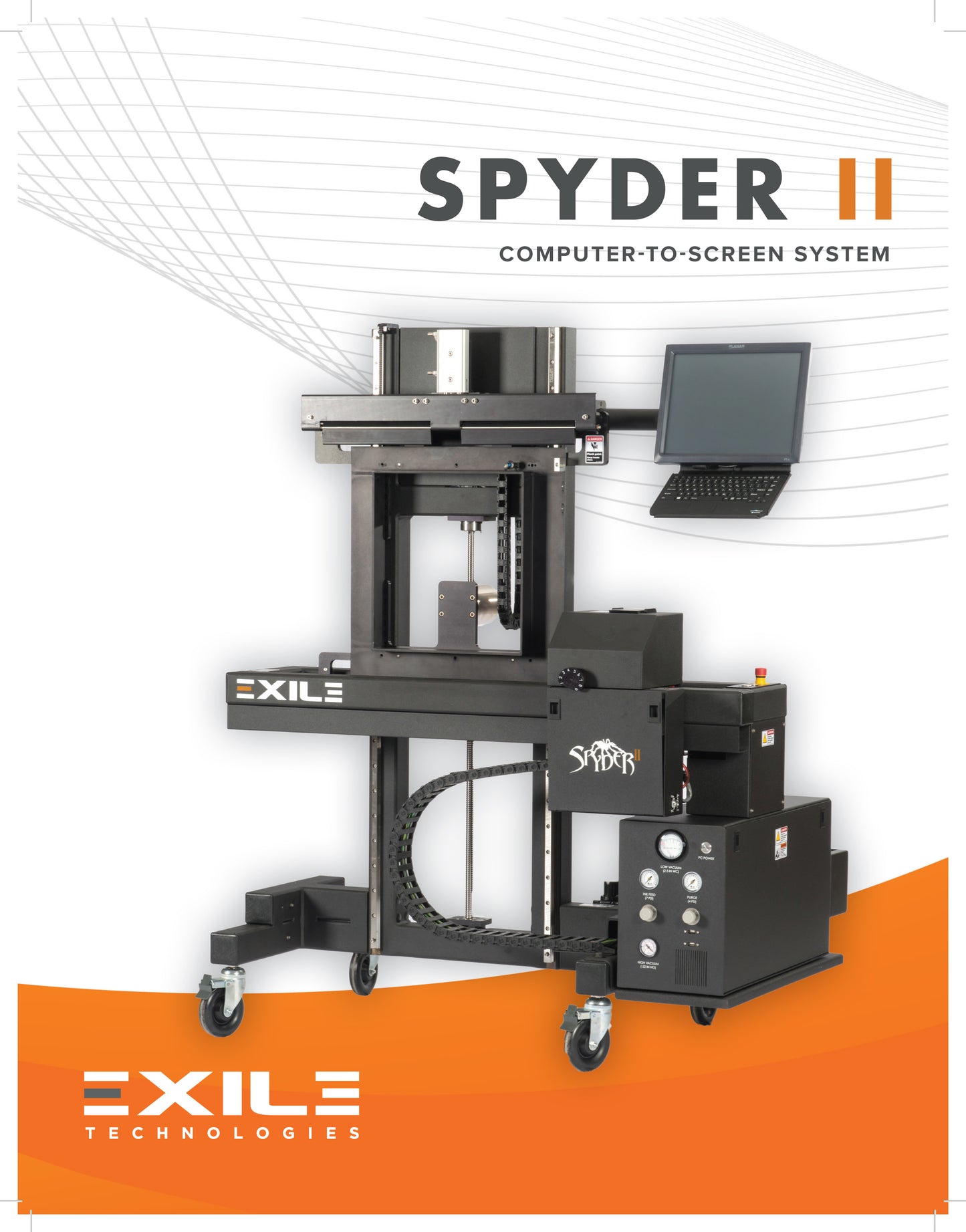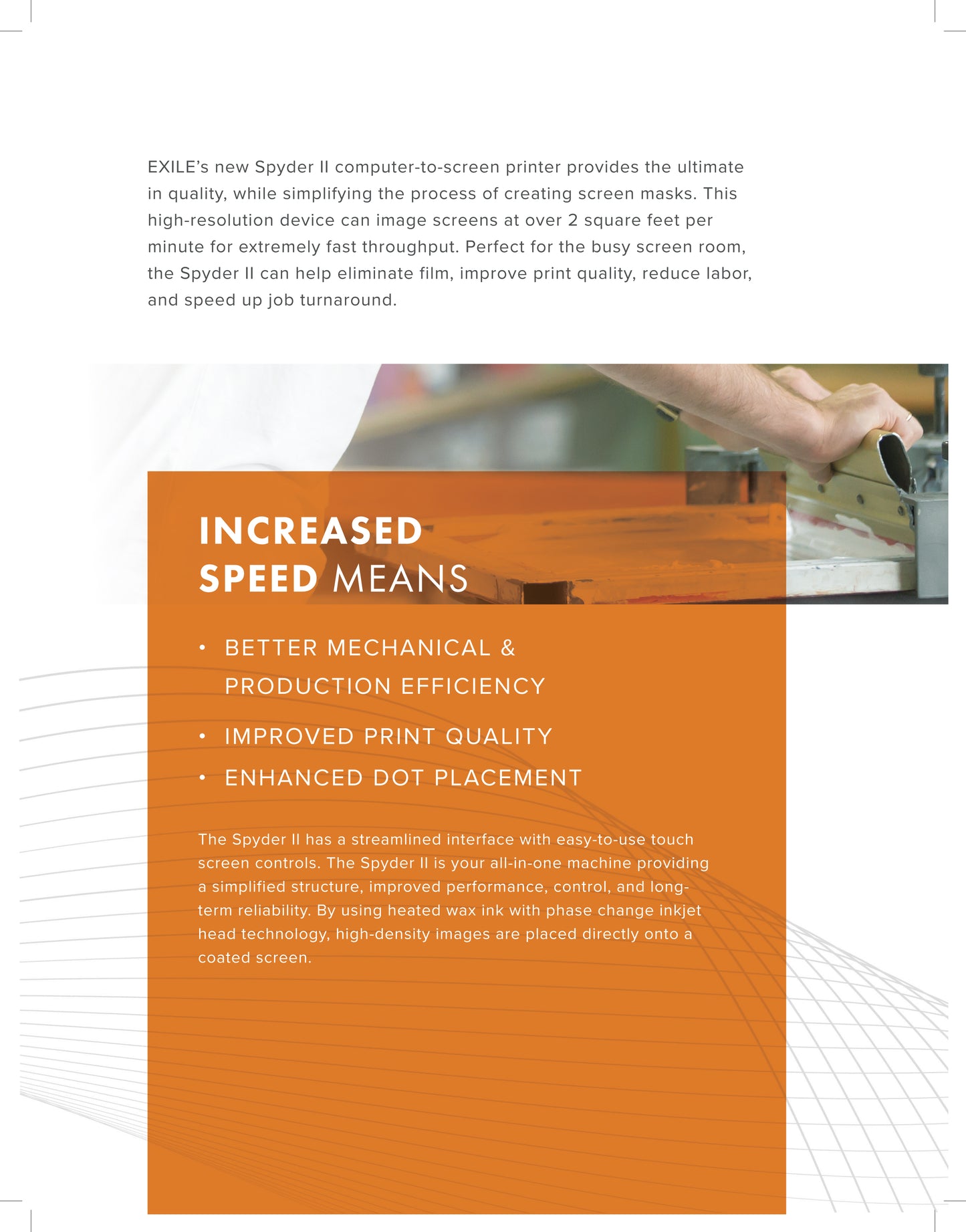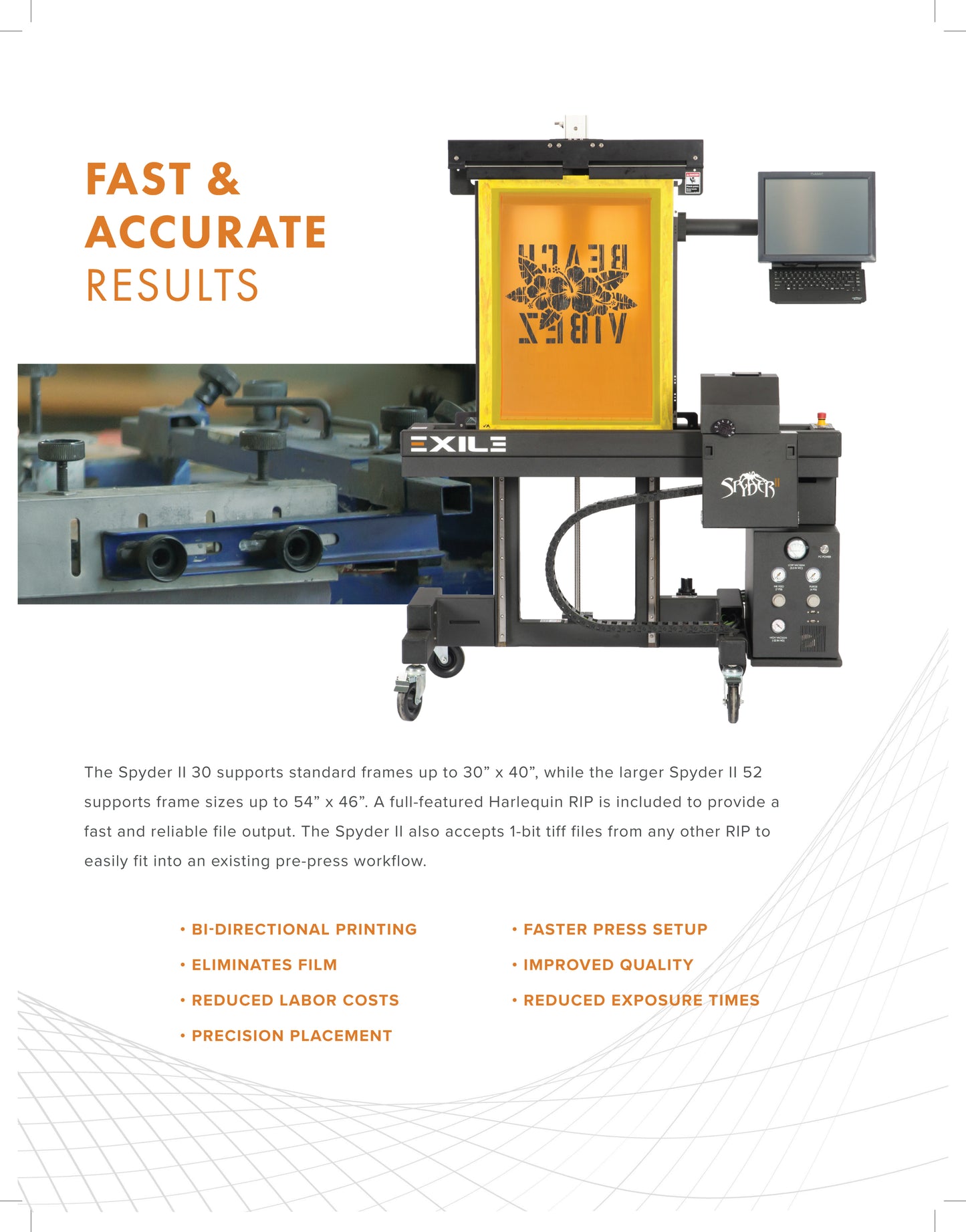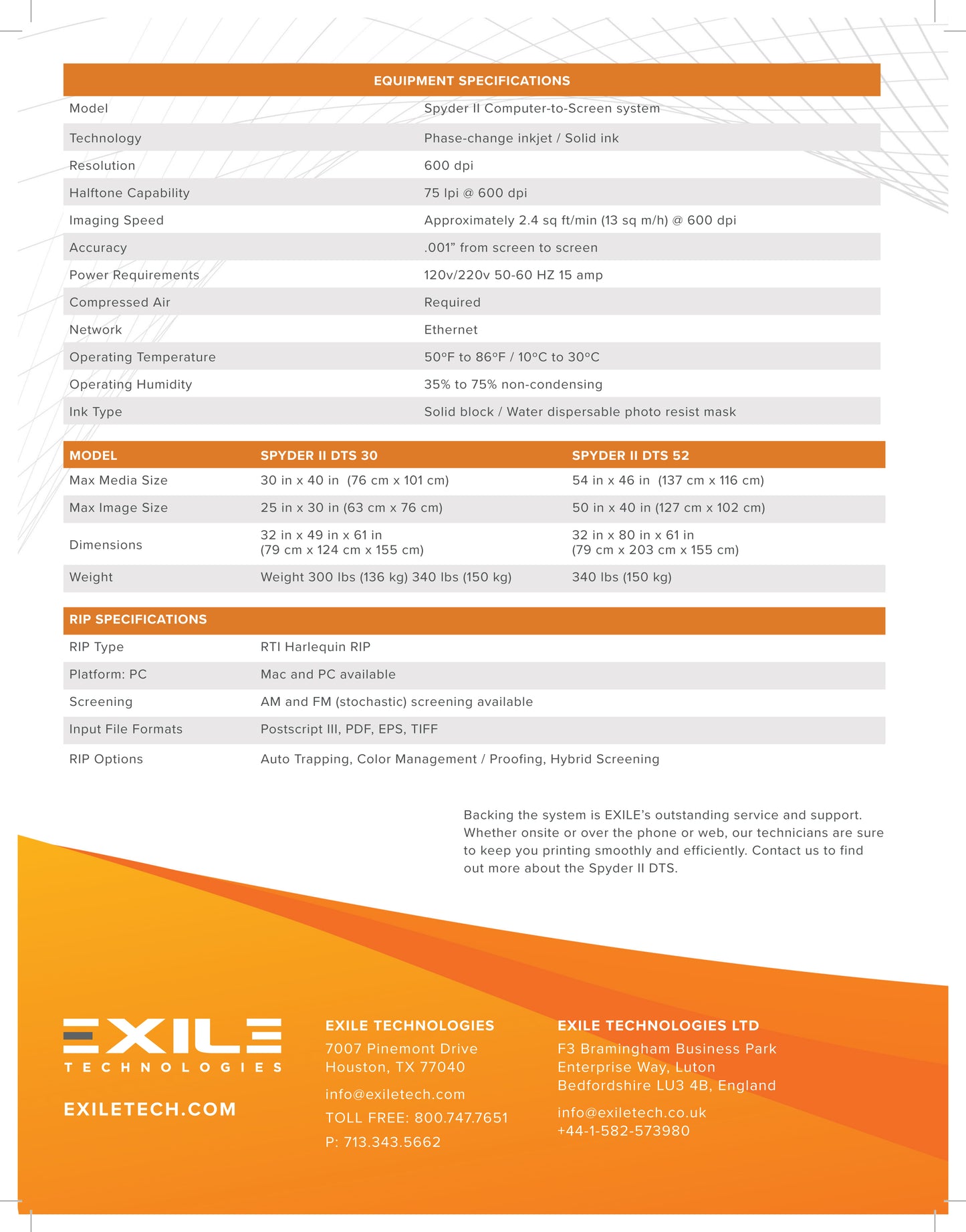 Need Assistance with Exile Technologies Products?

Our team is committed to your success and satisfaction. We are passionate about helping the printing community through knowledge, education, and service. Need additional information on our products, contact us today and we will be happy to assist!