Regular price
Sale price
$115.00
Unit price
per
Sale
Sold out
Emulsion Coating Thickness Gauge 0~1300um, 1500 Readings Storage, 360°Screen Rotation, Backlit Color Display, and voice feature.

FEATURES
High-quality meter: Measuring range: 0 ~ 1300um(0~51mils) with an accuracy of ±(3%H+1μm), resolution of 0.1 mils. It can save up to 1500 readings in 100 groups and display the max/min data point, standard deviation, and mean.
Micron accuracy probe: It automatically identifies magnetic/non-magnetic metal substrates, provides basic calibration and zero calibration. No matter what you want to test, it will instantly give you very detailed readings on emulsion thickness, substrate type, and more.
Easy to read display and use: The paint thickness gauge is equipped with a large high-definition LED-backlight color screen that displays all the necessary information and auto rotates when the device's orientation is changed, it has a built-in 1000mAh rechargeable battery and auto-off function.
Measuring range: 0~1300/51mil

Resolution: 0.1µm/0.1mil

Accuracy: ≤150µm ±5µm, 150µm ±(3%H+1µm)
Functions:
 

HD three backlight color screen selection (black, blue, orange) can rotate screen

Automatic detection magnetic and non-magnetic coating (Fe/NFe)

Single & continuous measuring mode

Basic calibration & zero-point

Metric/imperial unit

Sound helper, low battery indicator

Memory storage of up to 1500 readings in 100 groups
Measurement trend chart
This coating thickness gauge meter provides statistical analysis for max, average, min value, past value, and trend standard deviation
View full details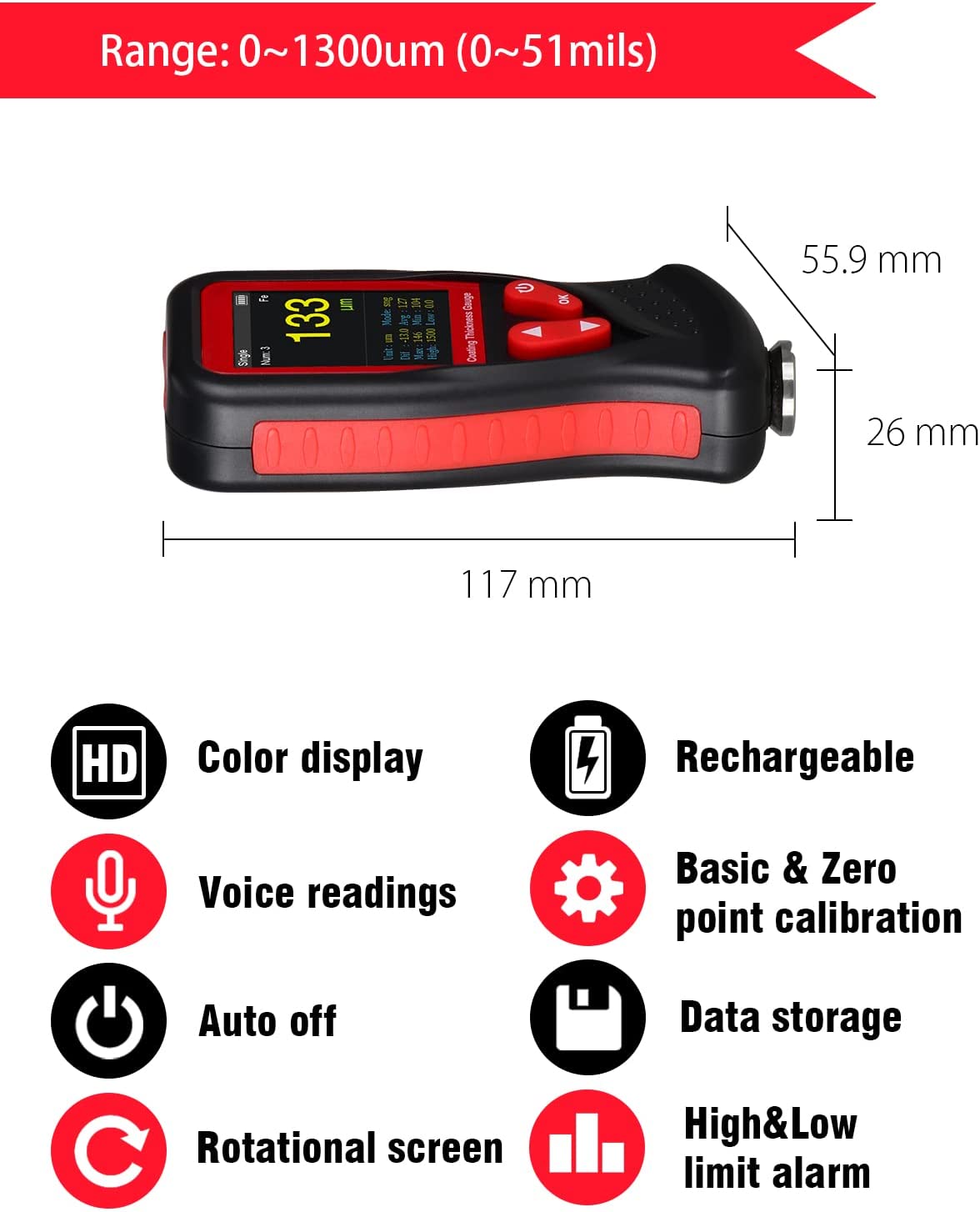 Need Assistance with Blue Ridge Screen Products Products?

Our team is committed to your success and satisfaction. We are passionate about helping the printing community through knowledge, education, and service. Need additional information on our products, contact us today and we will be happy to assist!