Regular price
Sale price
$13.76
Unit price
per
Sale
Sold out
The original Blockout Pen from 1st Print!
Blockout pens are great for fixing small pin holes in your emulsion after exposure or even during the printing process. Don't worry about tap or block out solutions, simply apply with this pen and the pin hole goes away! To ensure complete coverage, the block out solution in these pens has a fairly high viscosity. They need to be shaken well before use and may have to be squeezed hard to get the block out fluid moving smoothly. A blockout pen for screen printing is great to use in preparing a screen for press.
Using a blockout pen allows you to easily block out small pin holes or registration marks left in the emulsion.

Choose the best pen(s) for your needs:
GREEN:
Ultra-fast drying 
Water soluble (30 to 90 seconds) blockout
Recommended for on or off the press touch-up of direct stencil systems
Resists:

Plastisol
UV
Most solvent-based inks
   Reclaims with tap water
 RED:  
Fast drying
Water soluble (10 to 15 minutes) blockout
Recommended for use during screen preparation
Works with all stencil systems
Resists:

Virtually all solvent based
Plastisol
UV inks
       Reclaims with tap water
View full details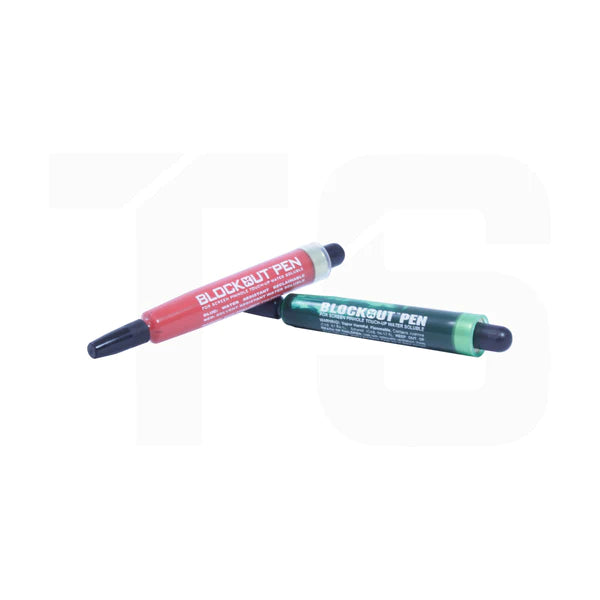 Need Assistance with First Print Products?

Our team is committed to your success and satisfaction. We are passionate about helping the printing community through knowledge, education, and service. Need additional information on our products, contact us today and we will be happy to assist!