Regular price
Sale price
$85,675.00
Unit price
per
Sale
Sold out
The VOLT by Anatol is the only professional-grade electric automatic screen printing machine in the world. It gives you the speed, power and reliability of a screen printing press without the issues of a compressor or chiller. The VOLT uses reliable servo-driven indexers and servo lift to ensure years of reliable service without downtime caused by leaks in tubing and the build-up of dirt and moisture. Anatol's VOLT is energy-efficient, capable of cutting your electric bill when compared to pneumatic automatic screen printing machines.
It's designed for maximum ease of use with a 15" touchscreen interface, one touch digital off-contact controls, tool-less stroke and micro registration adjustments, laser alignment system and Speed Clamps screen locks. Anatol offers VOLTs to benefit shops of all sizes, with four models: VOLT S, VOLT M, VOLT L and VOLT XL, in configurations of 6 stations/4 colors to 20 stations/18 colors.
Print Heads
AC electric-driven print heads enhance smoothness, speed and power
Front and rear stroke adjustment
Single-handed tool-less squeegee/flood bar locking
Easily adjustable to side screen clamps accommodate a wide range of screen sizes
Control Interface
Aries 2 OS – User-friendly operating system
15'' touchscreen with intuitive one-touch access to all job settings and machine functions for fast setup
Rotating boom arm for easy access to each print head
Easy access to operator's manual
Automatic software updates available via Wi-Fi
Receive automatic email notifications with production statistics
Connect the machine directly to Anatol Service with Presentation Mode
Functions
Quickly save and recall all parameters of stored job: off-contact distance, indexer speed, print head speed, number of strokes, flash cure time and temperature, ink colors, print mode, and (with servo heads only) stroke length
Easily copy the same print head settings to all heads
Pallet System
Pallet System Slide-style pallets allow for adjustments in print location
Tool-free locking
Precise four-point pallet leveling system
16''x22'' solid aluminum, low profile rubber-coated pallets standard, with a wide variety of custom pallets available separately
Registration
True three-point micro-registration of screen (front-back, left-right, rotational movement)
Compatible with Anatol's ARME pre-registration system, as well as a number of other pre-registration systems available on the market
Skip Shirt & Smash Button
Save time and supplies by preventing the press from printing on empty pallets with our Skip Shirt function on the control panel
Smash button allows for easy skipping of improperly loaded shirts to prevent misprints – more reliable than systems utilizing sensors
Indexing System
Servo indexer allows for clockwise, counter clockwise and half indexing – easily switch at the push of a button from job to job
Smooth and quiet indexing at high speeds
Ball bearing lead screw design with internal lubrication system
Freewheel capability available on most models allows for manual carousel rotation
Heads Up Feature
On machines with an odd number of print heads, this allows you to raise the last head on a hinge to create dedicated loading and unloading stations.
It's like getting two machines in one. For instance, a 10 station/9 color machine can become a 10 station/ 8 color machine when you need two operators to load and unload and aren't using the last head, allowing you to work faster.
Central Off-Contact
Digitally-controlled central off-contact with 38 settings up to 2/5'', adjustable right from the machine's touchscreen
Safety System
Safety bars, located between each print head and on each side of the load and unload stations, ensure safety during press set-up and operation
Laser Alignment System
Laser alignment system for quick and easy apparel alignment
Four independently-adjustable straight red lasers
Options
Quartz flash cure units
Foot pedal to control indexing
Quick-release pallet system
Variety of specialty and custom pallets available
Special sizing available for doorways as small as 28''
Servo print heads allow you to control print stroke length and squeegee pressure digitally
Individual print head controls-membrane panel or touchscreen
Price does not include shipping/freight fees.   All freight costs will be invoiced separately at carrier rates and are due prior to shipping.    
View full details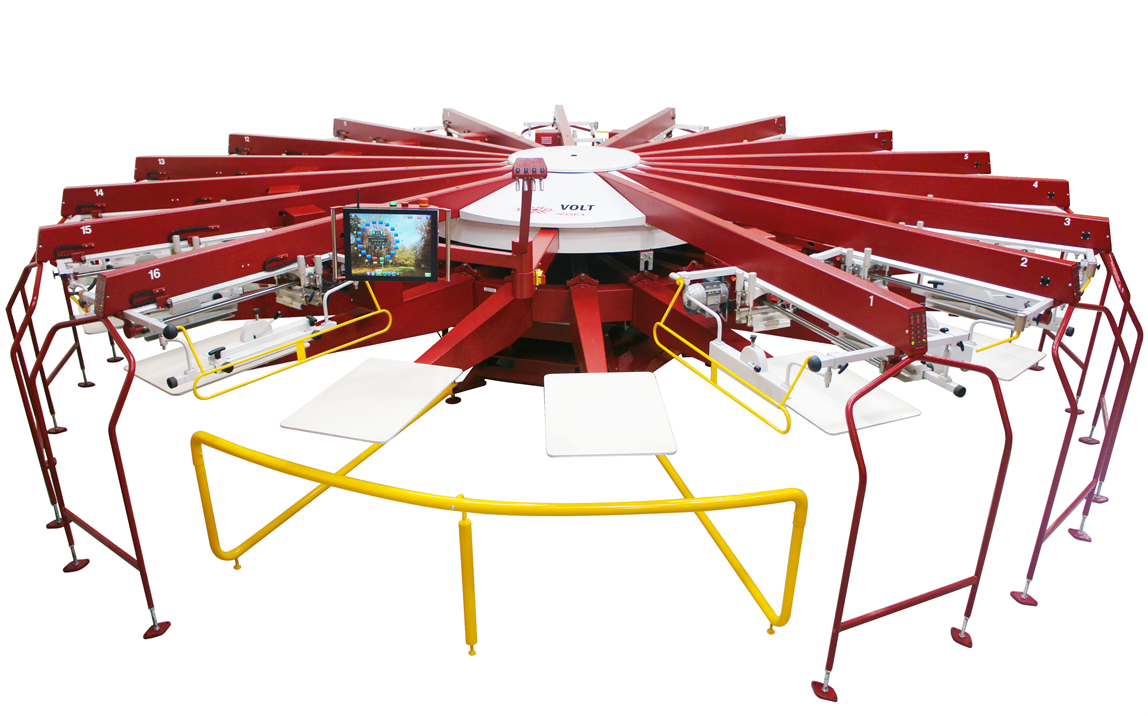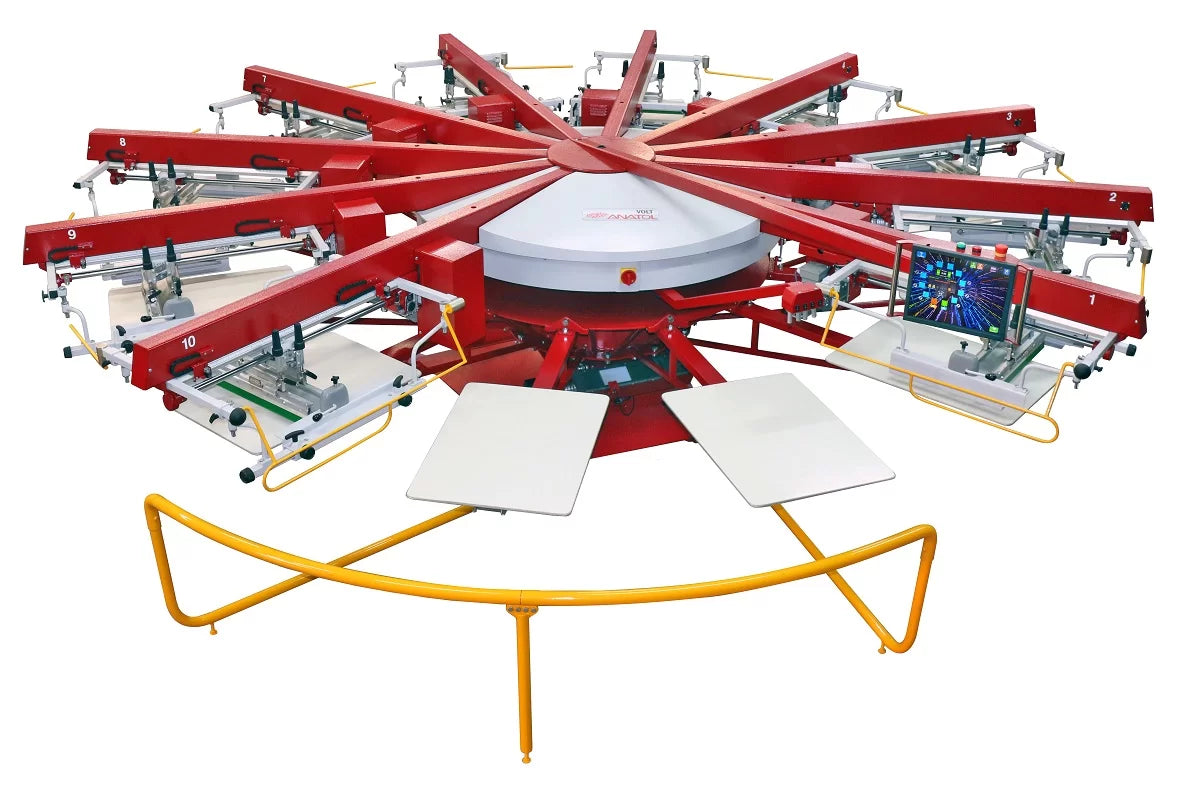 Need Assistance with Anatol Products?

Our team is committed to your success and satisfaction. We are passionate about helping the printing community through knowledge, education, and service. Need additional information on our products, contact us today and we will be happy to assist!