Regular price
Sale price
$5,208.00
Unit price
per
Sale
Sold out
The Aurora UV LED exposure unit exposes screens quickly, evenly and efficiently. It exposes screens in seconds while giving you sharp detail and high resolution half-tones, with even exposure across the whole screen. Featuring long-lasting LEDs designed to last 50,000 hours, the Aurora UV LED exposure unit requires no startup or cool down time, keeps temperatures low and is less expensive to maintain than metal halide units. Let the Aurora shorten your setup times and lower your energy costs today. This exposure unit is designed for one-touch operation, from the 7.5" touchscreen controls and ability to save and recall up to 8 job settings, to the flip-latch blanket locks. The Aurora exposure unit is available for maximum screen sizes of 23″ x 33″ or 26" x 36" (for single screens), or 26″x43″,  52″x36″ or 50″x60″ (can expose two screens at the same time).
Touchscreen Controls
7.5" touchscreen with Aries operating system
Simple one-touch controls
Expose screens in Automatic mode or Manual mode
Adjustable settings for vacuum delay and exposure times
Program and save up to 8 settings
Light Source
Long life expectancy of LEDs: 50,000 hours
Broad light spectrum (390-405)
Safe lights to facilitate proper alignment of artwork
Exposure Area
Five maximum screen frame size options:
23″ x 33″
26″ x 36″
26″ x 43″ (for two screens)
52″ x 36″ (for two screens)
50″ x 60″ (for two screens)
Blanket and Vacuum
Neoprene rubber creates a tight blanket-to-screen seal for the best emulsion-to-film-to-glass contact
Flip-latch on frame allows one-handed operation of opening and closing the vacuum blanket
Construction
1/4" optically clear plate glass
Air filtration system in light cabinet to keep glass and lights clean
Durable heavy-duty all-steel cabinet
Removable covers for easy access to interior for cleaning
Shipped fully assembled and ready for production
Includes Vacuum Pump (140 L/min)
Stand included (except 23″ x 33″ model)
Price includes Crate Fee.
Price does not include shipping/freight fees.   All freight costs will be invoiced separately at carrier rates and are due prior to shipping.    
View full details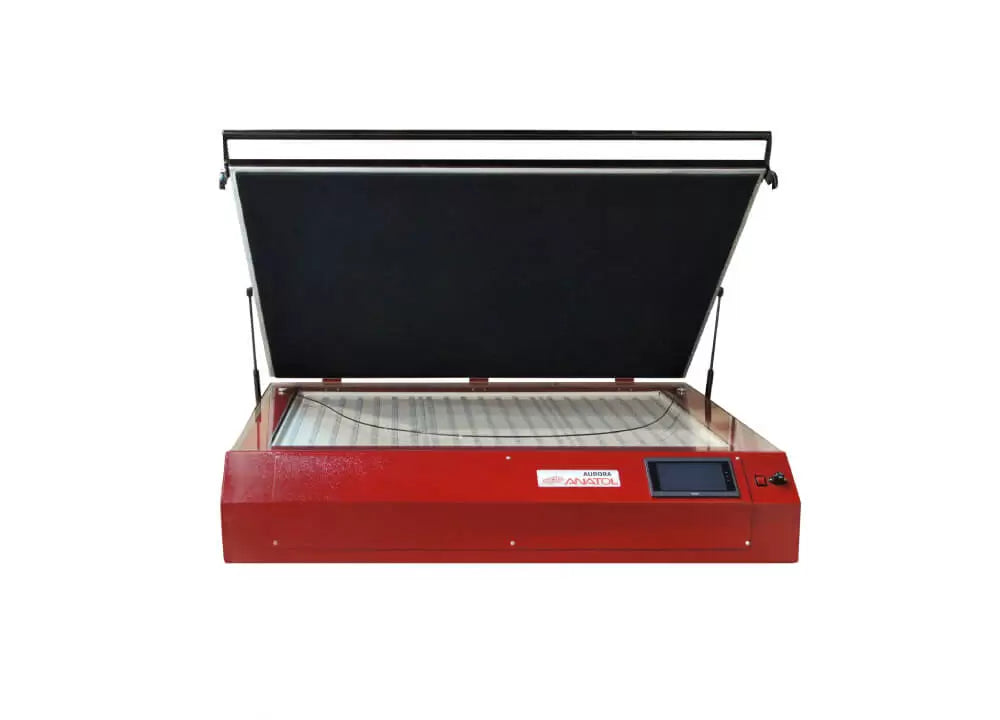 Need Assistance with Anatol Equipment Manufacturing Products?

Our team is committed to your success and satisfaction. We are passionate about helping the printing community through knowledge, education, and service. Need additional information on our products, contact us today and we will be happy to assist!