Regular price
Sale price
$14,995.00
Unit price
per
Sale
Sold out
The Seismo L24R is a more advanced version of the Seismo L24 DTF powder shaker and dryer. It has an auto-recirculating system that collects excess powder for refilling and reuse, making it more efficient and cost-effective. If you are looking for a powerful and efficient powder distribution solution for your DTF printing business, the Seismo L24R is a great option.

(Price Includes Shipping)
Benefits:
Improve efficiency
Reduce material waste
Save time and money
Features:
Large Media Width: The Seismo L24R has a large media width of 24", allowing for the printing of larger designs without any issues. This feature provides greater design flexibility and allows printing on a wider range of materials.
Auto-Recirculating System: The Seismo L24R comes with an auto-recirculating system that automatically collects excess powder for refilling, eliminating the need for manual powder collection and refilling. This feature increases efficiency, saves time, and reduces the chances of powder spillage or mess.
Intelligent Sensor System: With the intelligent sensor system in place, the Seismo L24R ensures stable curving quality while consuming less power. This results in energy savings, reduces overall operating costs, and improves the quality of the final product.
Conveyor and Suction System: The conveyor and suction system on the Seismo L24R make it easier to feed the initial film into the machine, reducing setup time and effort. This feature improves overall efficiency and reduces the chances of film misalignment or errors.
Powder Filling Box: The powder filling box on the Seismo L24R provides a convenient way to refill the powder without causing any mess or spillage. This saves time, ensures even powder application, and improves overall efficiency.
Powder Drying Function: Its built-in powder drying function on the Seismo L24R dries the powder-coated film quickly and efficiently, reducing the drying time and improving overall efficiency. This feature ensures faster turnaround time and increases the number of prints that can be produced in a given timeframe.
Easy Maintenance: The Seismo L24R DTF powder shaker and dryer is easy to maintain, with simple cleaning procedures that can be completed quickly. This feature reduces downtime, ensures that the machine is always in optimal condition, and extends the lifespan of the machine.
Specifications:
Max. media width
24 in. (60 cm)
Max. amount of powder applied at one time
4.5-6.5 lb (2-3 kg)

Powder Filling Box
YES
Powder Collection Drawer
NO
Powder Filling Frequency
Every 4-5 Hours
Machine Size (LxWxH)
63.78" x 35.91" x 39.1"
162*91.2*99.2cm
Package Size (LxWxH)
55.9" x 44.1" x 43.82"
142*112*111.3cm
Packaging Weight
530 lb (240 kg)

Power

220V/5.2KW/24A

Daily Maintenance
- Must reload powder every 4-5 hours
(When paired with Prestige L2/XL2)
- Simple to clean at end of day
Suitable for

Users printing 5+ hours/day looking for the

most

efficient and automatic powdering option
Compatible With:
Prestige XL4 DTF Roll Printer
View full details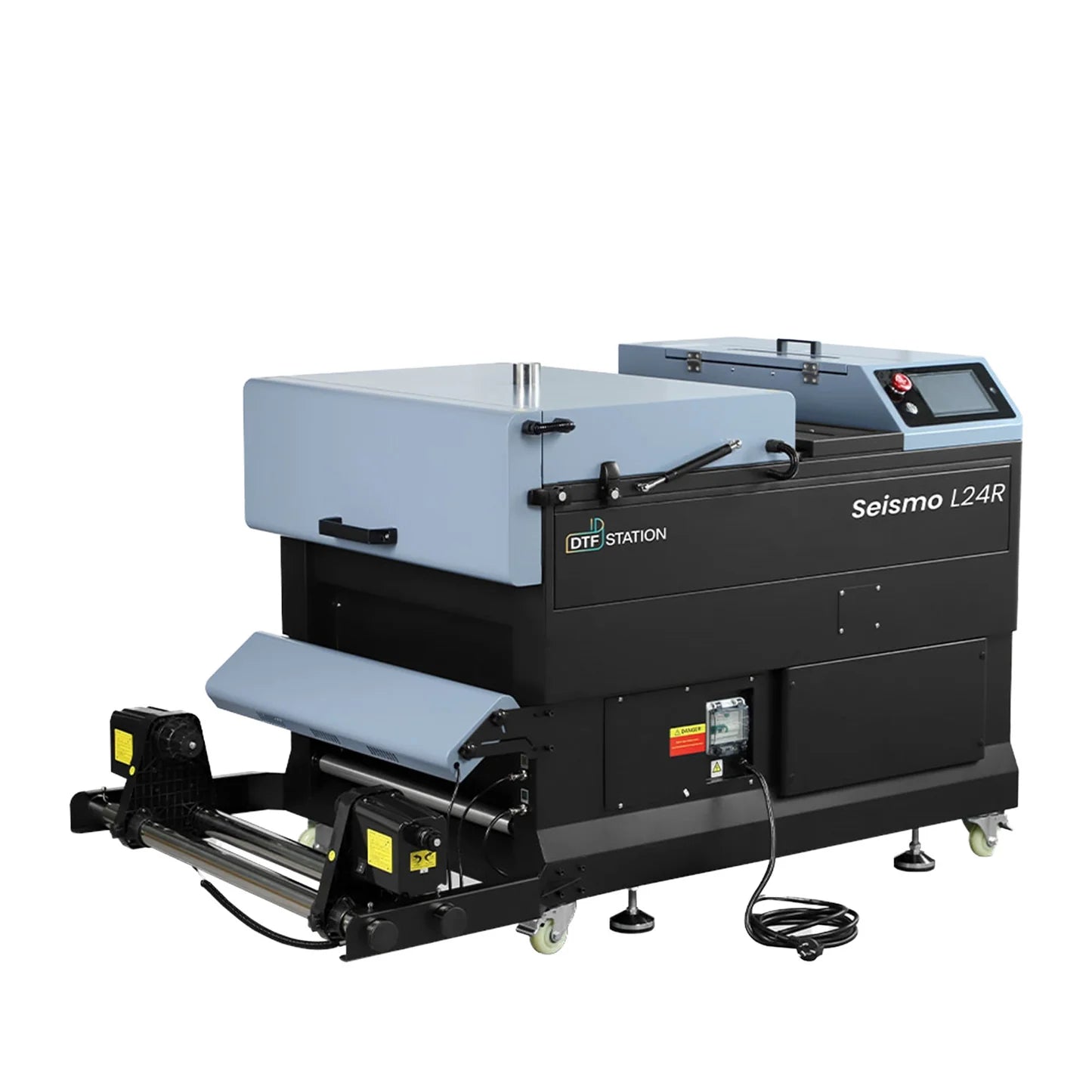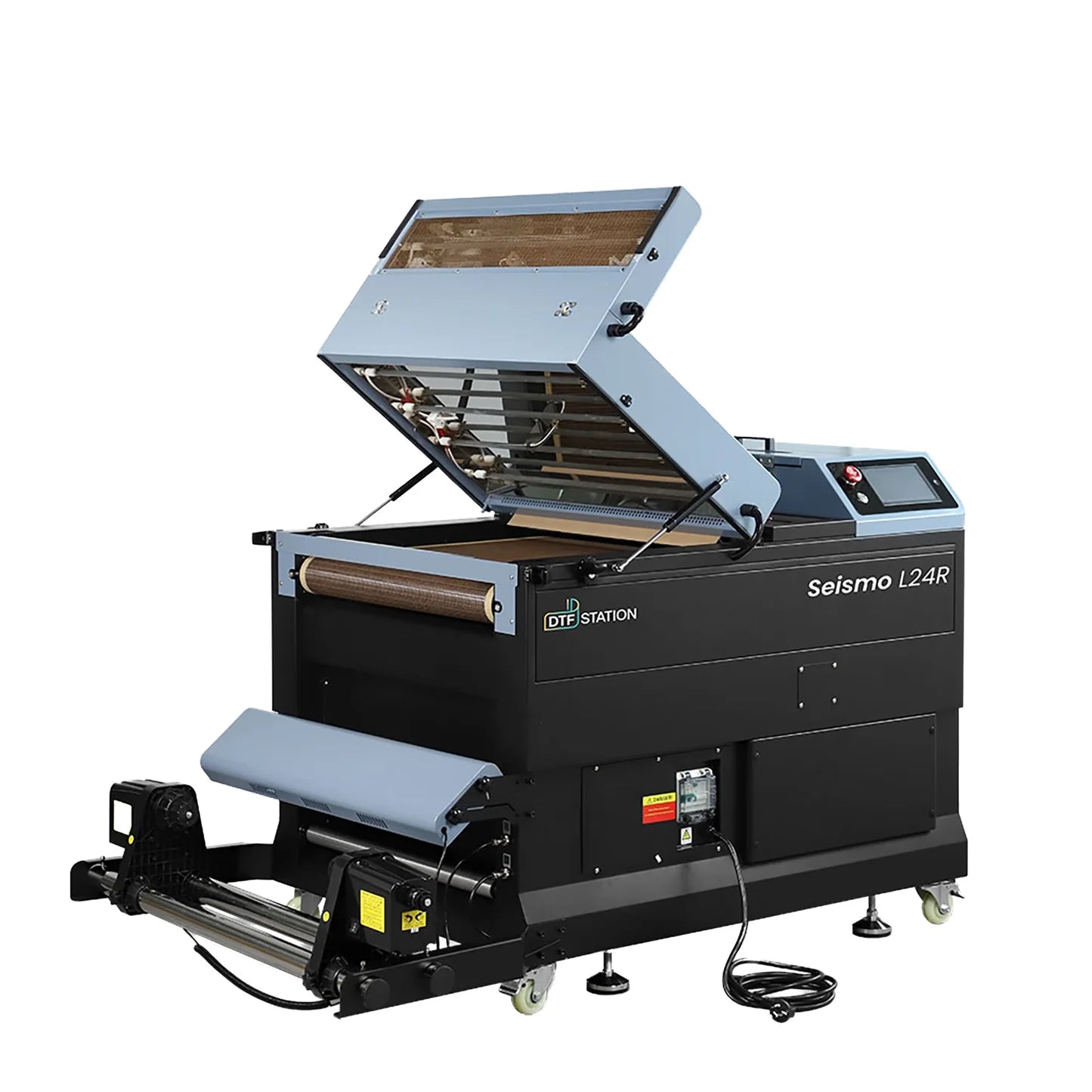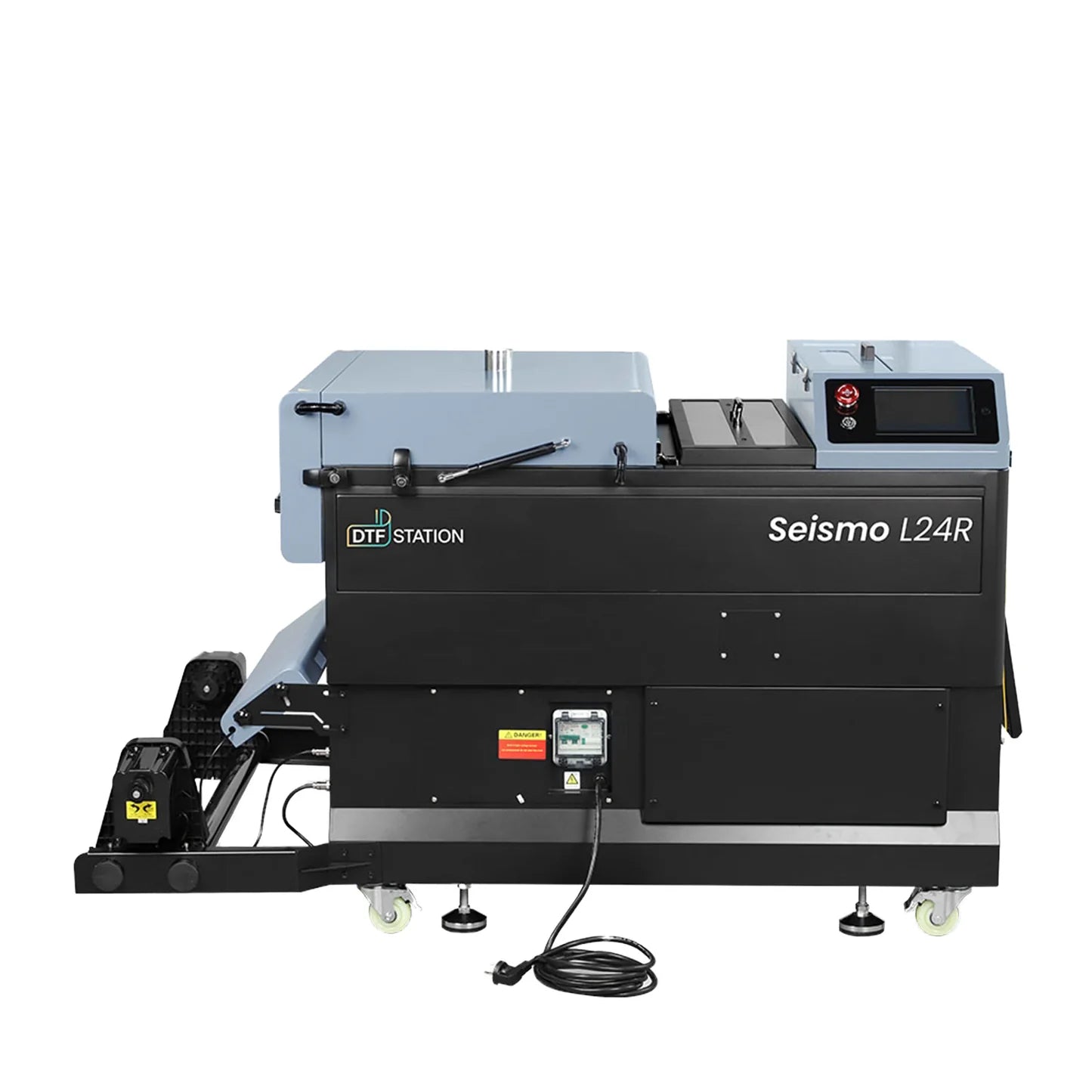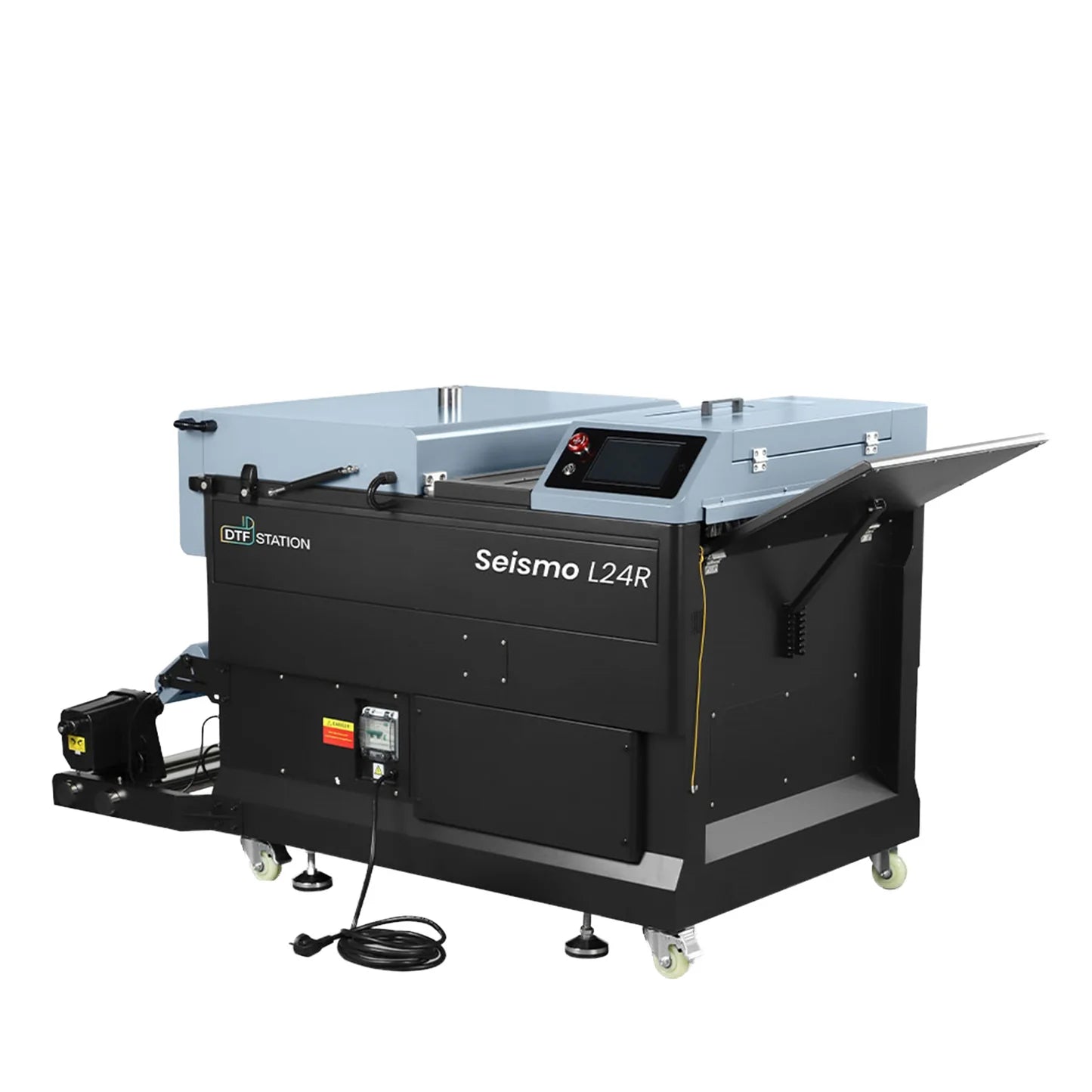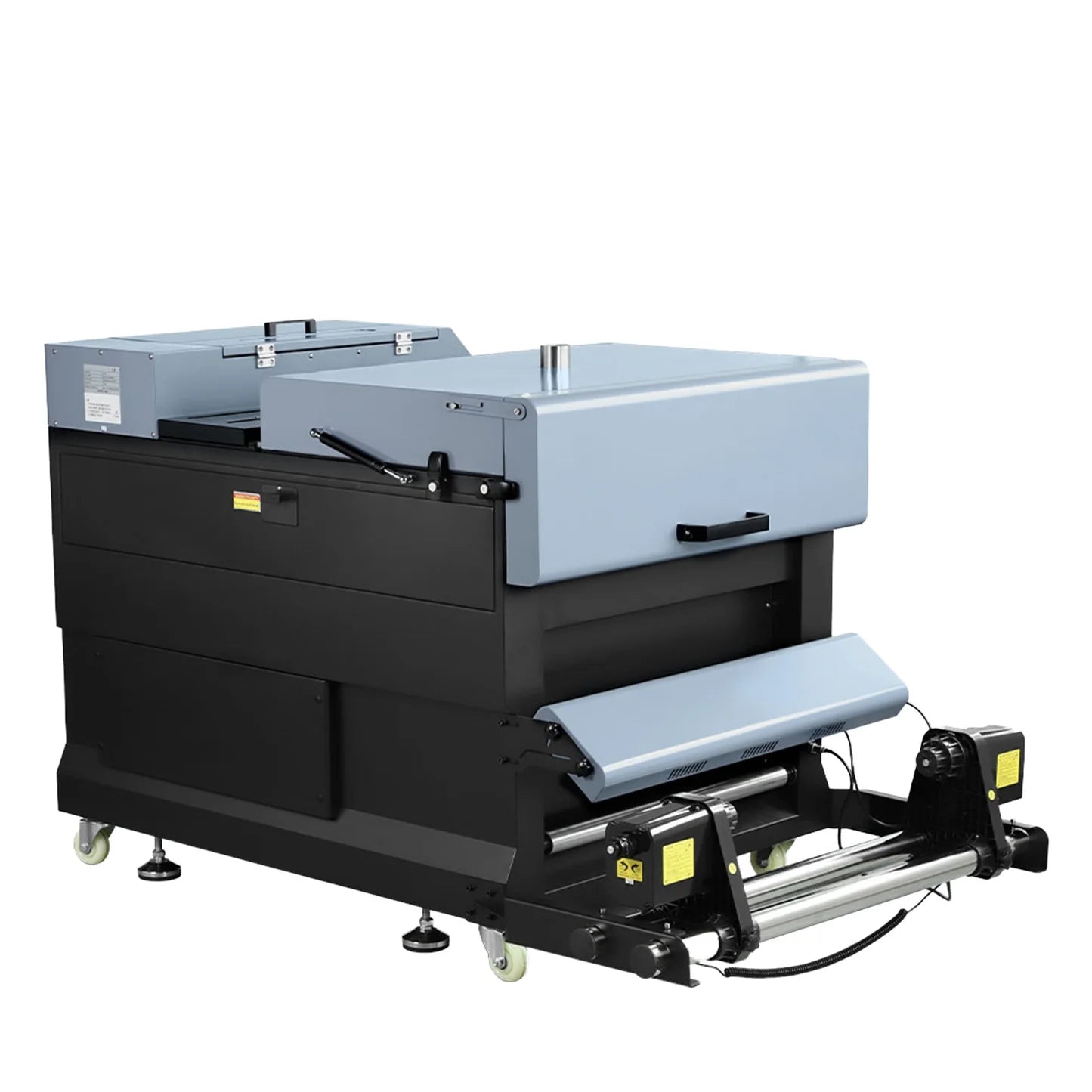 Need Assistance with DTF Station Products?

Our team is committed to your success and satisfaction. We are passionate about helping the printing community through knowledge, education, and service. Need additional information on our products, contact us today and we will be happy to assist!